SAINT HUGH OF LINCOLN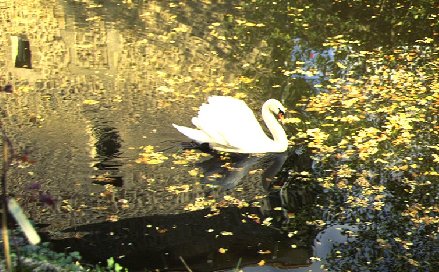 Very few Saints have visited Grimsby, where I used to live. Hugh, however, was definitely there in 1192, because he consecrated Old Clee church in that year, and there's an inscription on one of the pillars to prove it. At the time, of course, St. Hugh was Bishop of Lincoln, and one of the most famous churchmen in Europe. But how did he attain to that eminence, and from what beginnings?
Well, he come up from nuffin. He was born in 1140 in the south of the Duchy of Burgundy, in a tiny village called Avalon (dont confuse it with Avallon, which is much bigger and in the north). He was educated at the local Church school, and considered bright enough to become a monk. After ten years at the local Augustinian priory he was transferred to the mother house at the Grande Chartreuse, or Great Charterhouse, so he was a Carthusian. There, too, he remained for ten years, and finally got his big break at the age of 35.
In 1175 King Henry II of England sent to the Grande Chartreuse for a worthy man to become Prior of the Charterhouse at Witham in Somerset, which had been ruled by two incompetents in succession. The Carthusians sent Hugh, who went through the place like a dose of salts, and soon had its reputation as high as any in England. He remained there for eleven years, attracting worthy monks and eminent scholars to his establishment.
In 1186 Hugh was 46, and King Henry appointed him Bishop of Lincoln. Hugh, starting the way he meant to go on, refused on the grounds that the King had no business appointing him.
It took a direct order from the Prior of the Grande Chartreuse to persuade Hugh to accept the oversight of the largest diocese in England. He chose his canons from among the greatest scholars in the land, and indeed his first work was in education, reviving the Schools of Lincoln, which were soon considered second only to those of Paris. Next, he rebuilt the Cathedral, recently damaged by an earthquake, sometimes working with his own hands. He travelled all over the diocese even, as we have seen, to Old Clee, yet still found the time to become one of the most famous judges of his day; three successive popes appointed him to try difficult cases, and he judged in the Royal as well as in the Church courts. He also took care of lepers, and at the risk of his life defended the Jews of Lincoln during one of those bouts of anti-Semitism to which the city was distressingly prone.
Hugh's relationships with Royalty were always friendly, but always stormy. He was on intimate terms with three Kings, but like Thomas Becket before him refused to compromise the church's independence. He excommunicated royal servants when he found it necessary, and refused to appoint royal favourites to church offices. He turned aside the wrath of Henry II by talking back to him, and on one famous occasion actually got hold of Richard the Lionheart and shook him. Hugh never really got on with King John, mind, but then, who did?
In 1200 Hugh, now sixty years old, was still travelling thousands of miles a year on those dreadful medieval roads. He went to France to witness a treaty, visited a series of monasteries in that country, and on his return to London fell mortally ill. On his death­bed he arranged his funeral service and finalised the plans for Lincoln Cathedral, but still had the energy to oppose King John's nominee for Archbishop of Canterbury. Hugh died on 16 November 1200, and the King carried a candle at his funeral.
Within twenty years Hugh of Avalon had been canonised as Saint Hugh of Lincoln. The Rose window in the Cathedral known as the Deans eye records his funeral and canonisation. In 1280 his tomb was moved to the Angel Choir, newly built to replace the old East end of the cathedral, where there had not been room enough for all the pilgrims who came to his shrine. The shrine itself, which contained St. Hugh's head and was separate from the tomb holding his body, was removed at the Reformation, and archaeologists in 1887 and 1956 failed to discover any trace of the Saint's hallowed bones. The only relic of him which remains is his white linen stole, preserved at the Charterhouse of Parkminster in West Sussex.
Saint Hugh exemplified what is nowadays known as tough love. He was stubborn but gentle, fierce but tender, austere but kindly. What he thought right, he would defend against the King himself. We remember him for his large part in the foundation of our Church, and the Cathedral at Lincoln remains substantially as he dreamed it. He lived at the Manor House at Stow, and his symbol to this day is one of the swans from the moat; peaceful yet strong
HGB.