Saint Paul
Who will separate us from the love of Christ? Will hardship, or distress, or persecution, or famine, or nakedness, or peril, or sword? As it is written,
'For your sake we are being killed all day long;
   we are accounted as sheep to be slaughtered.
No, in all these things we are more than conquerors through him who loved us.''
Let's think about Saint Paul. What sort of a picture have you in mind? Here he is, writing a letter to the Christians in Rome, who like you have never seen him. How does he come across?
For a start, what does he look like? Nowadays I have no doubt he'd take a selfie and attach it to his email. Unfortunately, he couldn't do that at the date when he wrote this letter, some time between 54 and 59 AD.
As it happens, however, I got to know St. Paul rather well a few years ago, when I undertook to do a public reading of all the epistles in their proper chronological order. I knew him towards the end of his life, when he was in prison waiting for execution, still scribbling away undaunted. The last time I saw him, I drew a picture, so you, too, can have a look at the man who founded the Church.
<![if !vml]>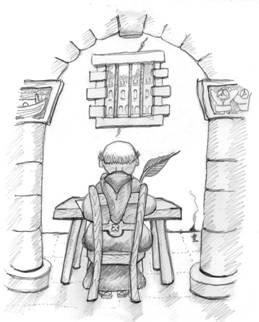 <![endif]>
He was a small man, quite old – well, he was 60, which was quite old in those days –  very tired, bald, slightly stooped, plainly in pain. He didn't often complain, but when he did, he did it loud and clear, the way he did everything; and then he'd stop, look at himself and laugh. If God sent him pain, there must be a reason. And after all, it was only pain.
He did laugh. Not all the time, by any means, and usually at himself. Sometimes he'd turn the humour on others, like the Galatians. 'You foolish Galatians!' He couldn't stand muddled thinking. Most of the time it made him laugh. And then he would explain, carefully and patiently. Sometimes, though, he just got mad. Any suggestion of doubt about the resurrection, from somebody who claimed to follow Christ, he'd come down on them so hard they nearly melted. 'If Christ did not rise, then we of all people are most to be pitied!'
Of course, with hindsight, we can see that Paul got a few things wrong. He thought that the world was about to come to an end, and that governed a lot of his practical advice – against marriage, for example. But his theology has for the most part stood the test of time, which is astonishing when you consider that he was not merely a Christian theologian, but the very first Christian theologian.
The picture in my mind is of this fiery little man, filled with the spirit to the brim and running over, standing in an endless succession of marketplaces shouting the truth in his odd provincial accent, or tramping endless dusty roads, carrying with him the burning beacon of the Faith, always in pain, never – never for a single moment – doubting or relenting.
Some people were always faithful to him; some went off and preached their own version of the Gospel, and Paul would have to write yet another letter to correct the impression they left behind. He was not easy to live with. By the end, he was complaining that only Luke was faithful; but by then he had sent all his other friends off on their own missionary journeys.
Paul was difficult, prickly, argumentative, convinced of his own ideas, infuriating, quirky and adorable. But today I want to concentrate on three or four aspects of his character we could all do well to emulate.
First of all, his commitment. Once he had set his hand to the plough, he never looked back. There was never any compromise in him. That experience on the road to Damascus never faded. He had seen the Lord, the Christ who was crucified and who was alive again. He never called it a vision, or a dream or a wonderful illusion; he had seen the Lord, and his job was to preach the Gospel to all nations. Which he did. He financed his travels by work as an itinerant tentmaker. He must have been a pretty good tentmaker, because he was able to boast that he was not a burden on the Church. And then he would tell himself off for boasting. But his boast was truth. Every ounce of his being, every breath he took, was directed to the cause with which he was charged.
After commitment, confidence. Whatever else Paul may have been, he was never backward in coming forward. He could face up to a crowd yelling for his blood, and then walk calmly through them and away. He could speak at any moment, come up with a sermon at the drop of a hat; there was no diffidence, no fear that what he had to say was not what the audience wanted to hear; most of the time, he knew it was not what they wanted to hear. That never stopped him. He was God's ultimate telegram boy. He had a message to deliver, and he was going to deliver it, literally come Hell or high water. In one of his whimsical moments, he drew up a catalogue of the things that might have stopped him: 'Three times I was beaten with rods, once I was pelted with stones, three times I was shipwrecked, I spent a night and a day in the open sea; on frequent journeys, in danger from rivers, danger from bandits, danger from my own people, danger from Gentiles, danger in the city, danger in the wilderness, danger at sea, danger from false brothers and sisters; in toil and hardship, through many a sleepless night, hungry and thirsty, often without food, cold and naked.' But he kept going, he never stopped, he just laughed at his own weakness and went on, because he had confidence in his mission. Commitment, confidence; we might add courage.
But the last C is the most important of all, and the one which sets Paul apart from the rest of us. The last C is Certainty. He could never have written the hymn that goes
'Just as I am, though tossed about
With many a conflict, many a doubt,
Fightings and fears within, without ...'
Paul had none of that. When he wrote this letter to the Romans, he was in Greece, and planning to go on to Jerusalem, where he knew people were challenging his theology and even questioning his apostleship. He would soon tell them about that. He had met the risen Christ. He might be, as he said, the least of the apostles, but he had been sent on his mission by Jesus himself, which is what apostleship is about; others may dare to doubt it, but Paul would soon put them right. Others may doubt, others may believe, others may feel, but Paul? Paul knew. And his summary of what he knew is in today's reading. 'I am convinced ...'  – we say a creed beginning 'I believe', but that's not enough for Paul – I am convinced that neither death, nor life, nor angels, nor rulers, nor things present, nor things to come, nor powers, nor height, nor depth, nor anything else in all creation, will be able to separate us from the love of God in Christ Jesus our Lord.' As always with this wonderful man, it all comes down, in the end, to love. All he did, all he said, all he wrote, all he suffered, he did, said, wrote, suffered for love.
Of course, he did go on to Jerusalem, where he was arrested and imprisoned for two years; and then finally under arrest to Rome, where Christian migrants had brought the Faith before him. Needless to say, he was shipwrecked again on the way, and calmed passengers and crew by preaching to them. He promised them no lives would be lost, and because they then stayed calm, no lives were lost. That's absolutely typical of Paul. Commitment, confidence, certainty. Or in his own words; Faith, hope, love.
Finally, let's skip to the very end of this longest of Paul's letters:
Now to him who is able to establish you by my gospel and the proclamation of Jesus Christ, according to the revelation of the mystery hidden for long ages past, but now revealed and made known by the command of the eternal God, so that all nations might believe and obey him – to the only wise God be glory forever through Jesus Christ! Amen.