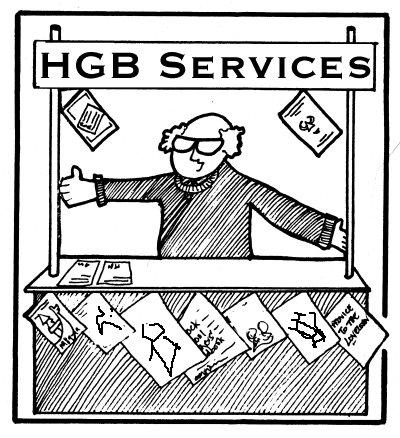 Hedley Grenfell-Banks has been around for a long time, and he's done a lot of things. Like: Teaching, Acting, Direction, Stage Management, Set design and construction, Lighting, Costume design and making, running a Library, preparation of Educational Resources, running a Bed and Breakfast, and so on. This website is about none of the above, but:
He has also been a freelance writer, publisher, lecturer, performer, photographer and graphic designer. He is bilingual in French and English, has lived in several countries, restored a thousand-year-old house in France and has had three one-man shows of artwork. Here you will find out what he has done and what he can do for you.
hedley@grenfell-banks.com
Articles
Books
Drawings & Paintings
Photographs of France
Photographs of England
Other photos
Talks
Readings

Contents
There's a selection of magazine articles on various subjects,
mostly travel and religion.
There's a selection of photographs of France.
There's a description of Hedley's Lectures and Slide Shows.
There's a selection of his drawings and paintings.
There are links to some of his books,
mostly about travelling in France,
but some fiction as well.
And there are readings of poetry and the Bible.
Services
Hedley can:
* Supply you with information about France, for planning holidays,
business trips, articles or presentations
* Give talks, lectures, dramatic readings or slideshows
* Supply photographs of France
* Write articles on aspects of France – or any other subject!
* Supply voice-overs
* Help with buying property in France and restoring it
* Design your logo, website or presentation